Kuala Lumpur – The Oil & Gas Year (TOGY) Malaysia 2015 was launched at the Shangri-La Hotel, Kuala Lumpur today.
In this event, JGC Malaysia was presented with the "Engineering and Construction Project of the Year" award for its Petronas LNG Train 9 Project in Bintulu, Sarawak. Accepting the award on behalf of the company is the Managing Director, Mr Takahiro Kobori. During his speech, he thanked TOGY for the award received in recognition of the company's skills and efforts. He stressed the importance of safety which has been and will always be the company's top priority in which saw the company achieving more than 20 Million Man Hours without Lost Time Injury (LTI). He also said that JGC Malaysia is committed and will continue to make its priority in ensuring that safety will not be compromised while completing the projects.
Meanwhile, the following companies were also recognised for their achievements:-
  Man of the Year – Dialog Group
  Upstream Project of the Year – ExxonMobil
  New Exploration and Production Entrant of the Year – SapuraKencana Petroleum
  Local Oilfield Services Company of the Year – Deleum
  Initial Public Offering of the Year – Icon Offshore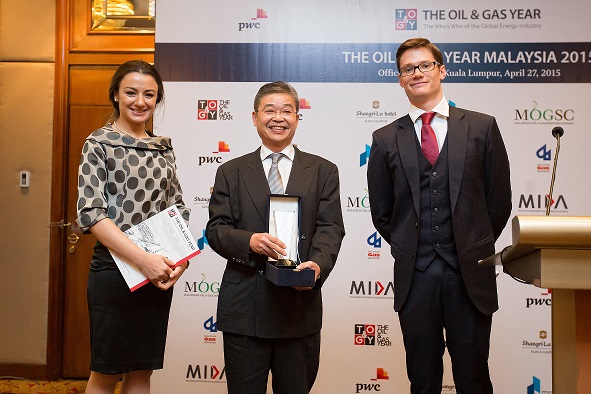 Mr Kobori posing for a photo session with TOGY's COO, Ms Asli Konyali and Regional Director, Mr Eric Gay after                                                                     receiving the prestigious award.