The Petronas LNG Train 9 (PLNG T9) Project, Tank 7 and New Jetty – Piping and Associated Facilities (Tank 7 NJ-PAF) Project and the MLNG Dua Rejuvenation (MDR) Project jointly celebrated the Annual JGC Safety Day 2017 on 5 July 2017.
The HSSE Committee Chairman of JGC Corporation, Mr Kenichi Yamazaki, was in Bintulu to join and to officiate the annual event.
The day started at 7.00 am with JGC Management and Supervisory personnel greeting the workers before participating in the "Radio-Taiso" group physical exercise. Management personnel from the Owner also participated in the event. Mr Moon Yun Sik, Site Manager of T7 NJ-PAF made the opening speech on the Safety Day Mass Tool Box and followed by Mr Yamazaki's speech to the assembled workers.
The activity continued with the prize and award presentation to the winners of Safety Day Poster Competition, Job Safety Observation (JSO) and Best Workers Awards.
Mr Yamazaki also delivered a Safety Day message from JGC President and Representative Director, Chief Operating Officer (COO), Mr Tadashi Ishizuka. He then further explained that JGC decided to go "Back to the Basics", a fundamental concept in the field of safety and health in the execution of construction work which can be translated as to "create safe, secure and healthy workplaces in which all staff can carry out their functions with confidence".
JGC Safety Day 2017 in Bintulu, Sarawak on 5 July 2017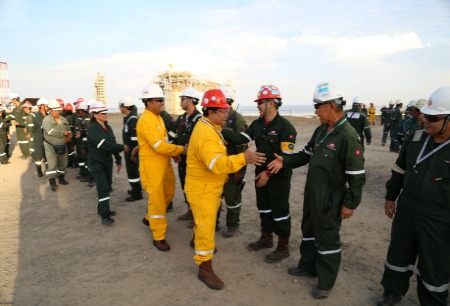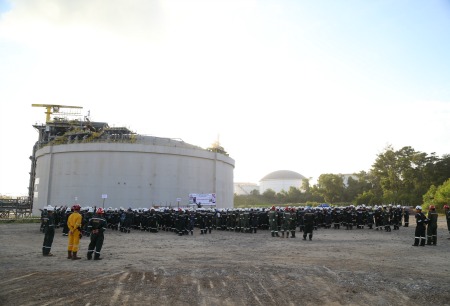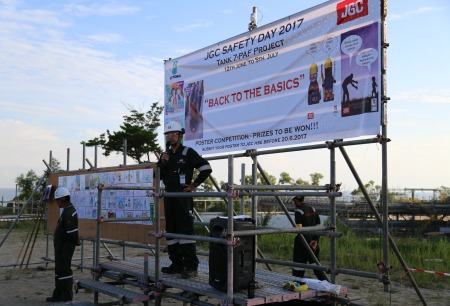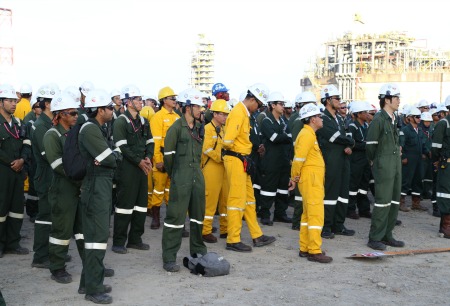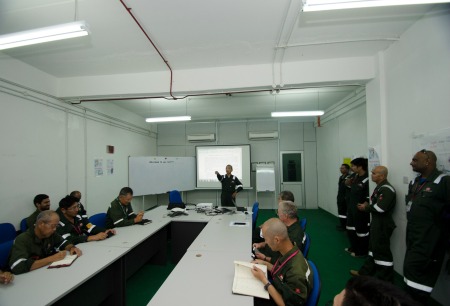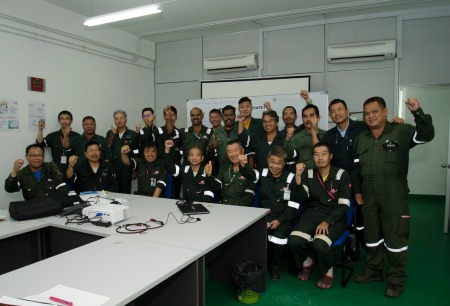 JGC Safety Day 2017 in Kuala Lumpur on 6 July 2017